Professor
Institute of Environmental Health Sciences
(313) 577-6575 (Phone)
(313) 577-0082 (Fax)
yho@wayne.edu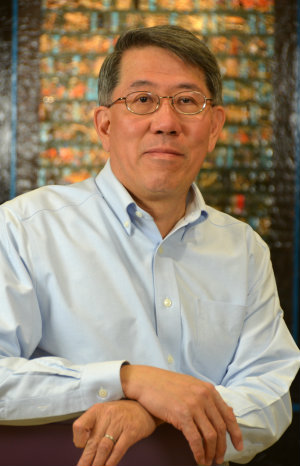 Research Interests
Transgenic mouse models, oxidative stress, and antioxidant defense mechanism
Overproduction of reactive oxygen species (ROS) have been implicated as important pathogenic mediators in many clinical disorders such as hyperoxic lung injury and ischemia/reperfusion- and adriamycin (ADR)-induced cardiac damage. The function of the prototypic antioxidant enzymes, which include three isoforms of superoxide dismutase, catalase, and glutathione peroxidase, in protecting cells and animals against oxidant-mediated tissue injury has been studied quite extensively both in vitro in cultured cells and in vivo in a whole animal. However, the molecular and cellular mechanisms by which ROS cause tissue injury are not well understood. In other words, the biochemical and cellular pathways, that are initiated by the increased oxidative stress in the targeted tissues and that contribute to the injury, are not known. Since sulfhydryl proteins are targets for oxidative modification when cells are under oxidative stress, and inactivation of the catalytic functions of critical cellular proteins may lead to irreversible cellular damage, we hypothesize that oxidation of sulfhydryl groups of proteins may contribute to the pathogenesis of the above three models of oxidant-mediated injury. Toward this end, the current research in our laboratory is to define the role of the cytosolic and the mitochondrial isoforms of glutaredoxin (Grx1 and Grx2, respectively), a thiotransferase functioning in reductive cleavage of protein mixed disulfides, in antioxidant defense using both transgenic and knockout mice. The potential cellular targets that interact with and that are protected by Grx1 and Grx2 will also be defined by proteomics approaches.
Selected Publications
Chua CC, J Gao, Y-S Ho, X Xu, K-Y Chua, H Wang, RC Hamdy, J Reed and BHL Chua. Over-expression of a modified bifunctional apoptosis regulator protects against cardiac injury and doxorubicin-induced cardiotoxicity in transgenic mice. Cardiovas Res 81:2027, 2009.
Diotte NM, Y Xiong, J Gao, BHL Chua and Y-S Ho. Attenuation of doxorubicin-induced cardiac injury by mitochondrial glutaredoxin 2. Biochim Biophy Acta 1793:427438, 2009.
Anathy V, SW Aesif, AS Guala, M Havermans, NL Reynaert, Y-S Ho, RC Budd and YMW Janssen-Heininger. Redox amplification of apoptosis by caspase-dependent cleavage of glutaredoxin 1 and S-glutathionylation of Fas. J Cell Biol 184:241252, 2009.
Chen Z, CC Chua, J Gao, K-W Chua, Y-S Ho, RC Hamdy and BHL Chua. Prevention of ischemia/reperfusion-induced cardiac apoptosis and injury by melatonin is independent of glutathione peroxdiase 1. J Pineal Res 46:235241, 2009.
Linda LM. S Lgren, Y.-S. Ho, M Lou, A Wegener1, F Holz1 and P Serberg. Absence of thioltransferase (Grx1) increases lens susceptibility to oxidative stress induced by UVR-B. Exp Eye Res 89:833839, 2009.
Johnson RM, Y-S Ho, D-Y Yu, FA Kuypers, Y Ravindranath and GW Goyette. The effect of disruption of genes for peroxiredoxin-2, glutathione peroxidase-1 and catalase on erythrocyte oxidative metabolism. Free Radic Bio Med 48:519525, 2010.
Madsen-Bouterse SA, Q Zhong, G Mohammad, Y-S Ho and RA Kowluru. Oxidative damage of mitochondrial DNA in diabetes, and its protection by manganese superoxide dismutase. Free Radic Res 44:313321, 2010.
Lekli I, S Mukherjee, D Ray, N Gurusamy, YH Kim, A Tosaki, RM Engelman, Y-S Ho and DK Das. Functional recovery of diabetic mouse hearts by glutaredoxin-1 gene therapy: role of Akt-FoxO-signaling network. Gene Ther 17:478485, 2010.
Won HY, JH Sohn, HJ Min, K Lee, Ha Woo, Y-S Ho, JW Park, SG Rhee and ES Hwang. Glutathione peroxidase 1 deficiency attenuates allergen-induced airway inflammation by suppressing Th2 and Th17 Cell development. Antioxid Redox Signal 13:575587, 2010.
Chung S, IK Sundar, H Yao, Y-S Ho and I Rahman. Glutaredoxin 1 regulates cigarette smoke-mediated lung inflammation through differential modulation of IκB kinases in mice: Impact on histone acetylation. Am J Physiol Lung Cell Mol Physiol 299:L192L203, 2010.
Liu G, SI Feinstein, Y Wang, C Dodia, D Fisher, Y-S Ho and AB Fisher. Comparison of glutathione peroxidase 1 and peroxiredoxin 6 in protection against oxidative stress in the mouse lung. Free Radic Bio Med 49:11721181, 2010.
Wetzelberger K, SP Baba, M Thirunavukkarasu, Y-S Ho, N Maulik, O A Barski, DJ Conklin and A Bhatnagar. Post-ischemic deactivation of cardiac aldose reductase: role of glutathione S-transferase P and glutaredoxin in regeneration of reduced thiols from sulfenic acids. J Biol Chem 285:2613526148, 2010.
Bachschmid MM, S Xu, KA Maitland-Toolan, Y-S Ho, RA Cohen and R Matsui. Attenuated cardiovascular hypertrophy and oxidants generation in response to angiotension II infusion in glutaredoxin-1 knockout mice. Free Radic Bio Med 49:12211229, 2010.
Adluri RS, M Thirunavukkarasu, L Zhan, Y Akita, SM Samuel, H Otani, Y-S Ho, G Maulid and N Maulik. Thioredoxin-1 enhances neovascularization and reduces ventricular remolding during chronic myocardial infarction: An insight with thioredoxin 1 transgenic overexpression mice. J Mol Cell Cardio 50:239247, 2011.
Aesif SW, V Anathy, I Kuipers, AS Guala, JN Reiss, Y-S Ho and YMW Janssen-Heininger. Aablation of glutaredoxin-1 attenuates lipopolysaccharide-induced pulmonary inflammation and alveolar macrophage activation. Am J Respir Cell Mol Biol 44:491499, 2011. 
Ivashchenko O, PP van Veldhoven, C Brees, Y-S Ho, SR Terlecky and M Fransen. Intraperoxisomal redox balance in mammalian cells: oxidative stress and interorganellar crosstalk. Mol Biol Cell 22:14401451, 2011.
Wu H, L Lin, F Giblin F, Y-S Ho and MF Lou. Glutaredoxin 2 knockout increases sensitivity to oxidative stress in mouse lens epithelial cells. Free Radic Biol Med 51:21082117, 2011.
Hwang I, J Lee, JY Huh, J Park, HB Lee, Y-S Ho and H Ha. Catalase deficiency accelerates diabetic renal injury through peroxisomal dysfunction. Diabetes 61:728738, 2012.
Adluri RS, M Thirunavukkarasu, L Zhan, NR Dunna, Y Akita, V Selvaraju, H Otani, JA Sanchez, Y-S Ho and N Maulik. Glutaredoxin-1 overexpression enhances neovascularization and diminishes ventricular remodeling in chronic myocardial infarction. PLoS One 7:e34790, 2012.
Hoffman SM, JE Tully, KG Lahue, V Anathy, JD Nolin, AS Guala, JL van der Velden, Y-S Ho, M Aliyeva, N Daphtary, LK Lundblad, CG Irvin and YM Janssen-Heininger. Genetic ablation of glutaredoxin-1 causes enhanced resolution of airways hyperresponsiveness and mucus metaplasia in mice with allergic airways disease. Am J Physiol Lung Cell Mol Physiol 303(6):L528L538, 2012.
Sakai J, J Li, KK Subramanian, S Mondal, B Bajrami, H Hattori, Y Jia, BC Dickinson, J Zhong, K Ye, CJ Chang, Y-S Ho, J Zhou and HR Luo HR. Reactive oxygen species-induced actin glutathionylation controls actin dynamics in neutrophils. Immunity 37:113, 2012.