Assistant Professor
Institute of Environmental Health Sciences
313-577-6578 (Phone)
313-577-0082 (Fax)
sjamesdaniel@wayne.edu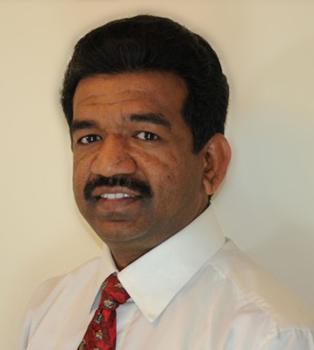 Research Interests
Redox sensitive molecular mechanisms play an important role in the regulation of cellular damage in acquired hearing loss induced by noise exposure, ototoxic drugs, and aging.
1) Noise is a pervasive environmental stressor, which induces oxidative stress to affect the physiological as well as psychological well-being. Since proteins determine the functional state of a cell, my laboratory employs a proteomic approach to elucidate redox sensitive signaling mechanisms/pathways that regulate noise-induced hearing impairment as well as stress response. We are also interested in identifying the genetic and environmental factors that play an important role in determining the susceptibility to noise-induced hearing loss.
2) Cisplatin is a commonly used anti-cancer drug, whose major side-effects include ototoxicity. Cisplatin induces nitration of cochlear proteins, an indicator of oxidative damage to proteins, and we identified the most abundant nitrated cochlear protein as LMO4, a transcriptional regulator. My laboratory is interested in delineating the signaling mechanism by which nitration of LMO4 alters its biological activity to induce cellular apoptosis and mediate cochlear cell death.
Selected Publications
Manohar S, Jamesdaniel S, Salvi R. Cisplatin inhibits hippocampal cell proliferation and alters the expression of apoptotic genes. Neurotox Res. 2014. 25: 369-380.
Jamesdaniel S*, Manohar S, Hinduja S. Is S-nitrosylation of cochlear proteins a critical factor in cisplatin-induced ototoxicity? Antioxid Redox Signal. 2012. 17: 929-933.
Jamesdaniel S*, Coling D, Hinduja S, Ding D, Li J, Cassidy L, Seigel M, Qu J, Salvi R. Cisplatin-induced ototoxicity is mediated by nitroxidative modification of cochlear proteins characterized by nitration of Lmo4. J Biol Chem. 2012. 287: 18674-18686.
Jamesdaniel S, Hu B, Habiby Kermany M, Jiang H, Ding D, Coling D, Salvi R. Noise induced changes in the expression of p38/MAPK signaling proteins in the sensory epithelium of the inner ear. J Proteomics. 2011. 75: 410-424.

Jamesdaniel S, Ding D, Habiby Kermany M, Jiang H, Salvi R, Coling D. Analysis of cochlear protein profiles of Wistar, Sprague-Dawley and Fischer 344 Rats having normal hearing function. J Proteome Res. 2009. 8: 3520-3528.
Coling D, Chen S, Chi L, Jamesdaniel S, Henderson D. Age-related changes in antioxidant enzymes related to hydrogen peroxide metabolism in rat inner ear. Neurosci Lett. 2009. 464: 22-25.
Jamesdaniel S, Salvi R, Coling D. Auditory proteomics: methods, accomplishments and challenges. Brain Res. 2009. 1277: 24-36.
Tanaka C, Chen G, Hu B, Chi L, Li M, Zheng G, Bielefeld EC, Jamesdaniel S, Coling D, Henderson D. The effects of acoustic environment after traumatic noise exposure on hearing and outer hair cells. Hear Res. 2009. 250: 10-18.
Jamesdaniel S, Ding D, Habiby Kermany M, Davidson B, Knight P, Salvi R, Coling D. Proteomic analysis of the balance between survival and cell death responses in cisplatin mediated ototoxicity. J Proteome Res. 2008. 7: 3516-3524.